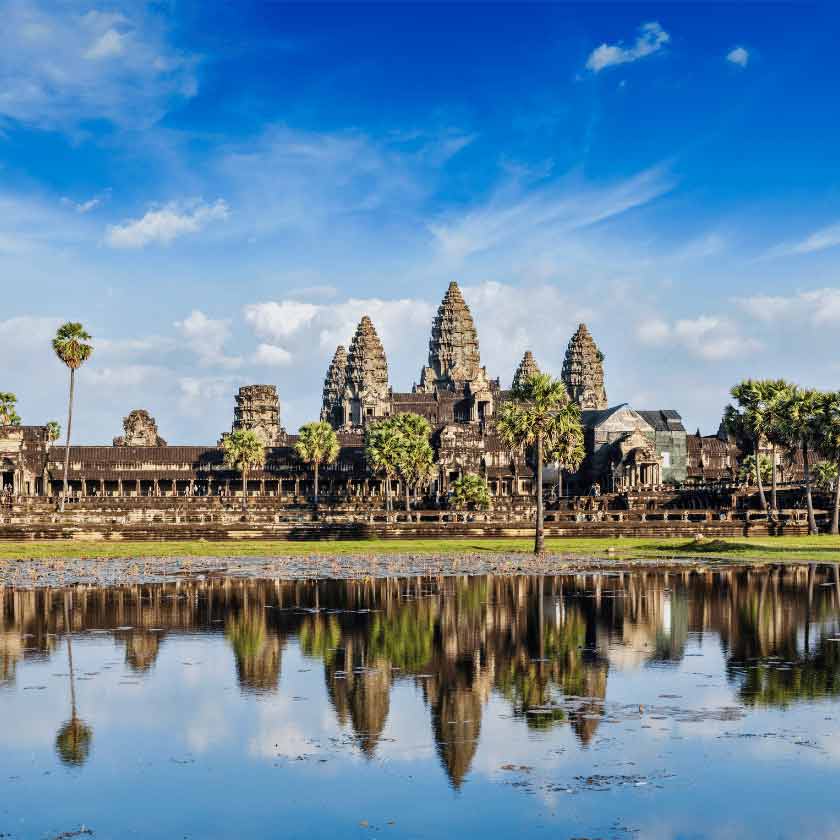 Cambodia has always been destined for great things. Each year, this country attracts millions and millions of visitors seeking to discover the culture and the secrets of the mighty Khmer empire of Angkor.
In the North-West you can find Siem Reap the closest town to the Angkor temple complex an archeological site, now a symbol of the country and the mark of the greatness of the fallen Khmer civilization.
In the South, is situated Phnom Penh the capital; with its French and Khmer architecture. There you will find the Royal Palace and its numerous cultural sites surrounding the area.
Take a break on the Southern coast and its kilometers of tropical beaches such as Kep or Sihanoukville, heaven-like beaches.
Thanks to its rich history, Cambodia is a high spot of cultures and traditions, discoveries of a lost civilization, and warm encounters with its local population.
A trip with Images Travel is the opportunity for your customers to discover the magnificent Cambodian landscape along with unseen glimpses of its local life.
PHNOM PENH
Phnom Penh the capital of Cambodia, is located on the confluence of three rivers, the Mekong, the Bassac, and the Tonlé Sap.
This capital is famous for its charm, tranquility, and peaceful life. In addition, the presence of French colonial buildings, temples, and especially the giant Angkorian architecture, make this city a great destination to explore. On top of this, and to make the trip more exotic, you can choose to discover the city by a tuk-tuk, (the local taxis) while visiting many interesting sites like palaces, pagodas, museums, etc… strolling through several markets selling sculptures, paintings and over goods. all of this will make Phnom Penh one of the key spots of the tour in Cambodia.
SIEM REAP
Located in the northwest of Cambodia. It is an interesting city that attracts millions of tourists each year, especially the famous Angkor Complex (UNESCO World Heritage).
It is located in the North-East of the largest sweet water reservoir in Southeast Asia, the great Tonle Sap lake, and surrounded by lots of rice fields and other agricultural plantations.|
This small pleasant and friendly city has a lot to offer with a large panel of activities. You will especially appreciate its preserved architecture of colonial style following the typical Khmer traditions. And of course, it is the home of the Angkor Complex, a ruined city of the ancient Khmer dynasty.
Weather:
Nov – Feb: 20 to 30°C, dry, enjoyable, ideal.
March -June: 30 to 36°C, rather hot, dry.
July – Oct: 25 to 35°C, occasional showers late afternoon.
Note: The European winter is the best period to combine Cambodia and the Mekong Delta.
Beaches: Kep, Sihanoukville, Koh Rong
All year: 25 to 35°C, enjoyable.
July – Oct: showers late afternoon, refreshing but can last long.
Note: Enjoy a beach holiday and then road towards Phnom Penh (or a flight towards Ho Chi Minh) for your return flight.
RELATED POSTS