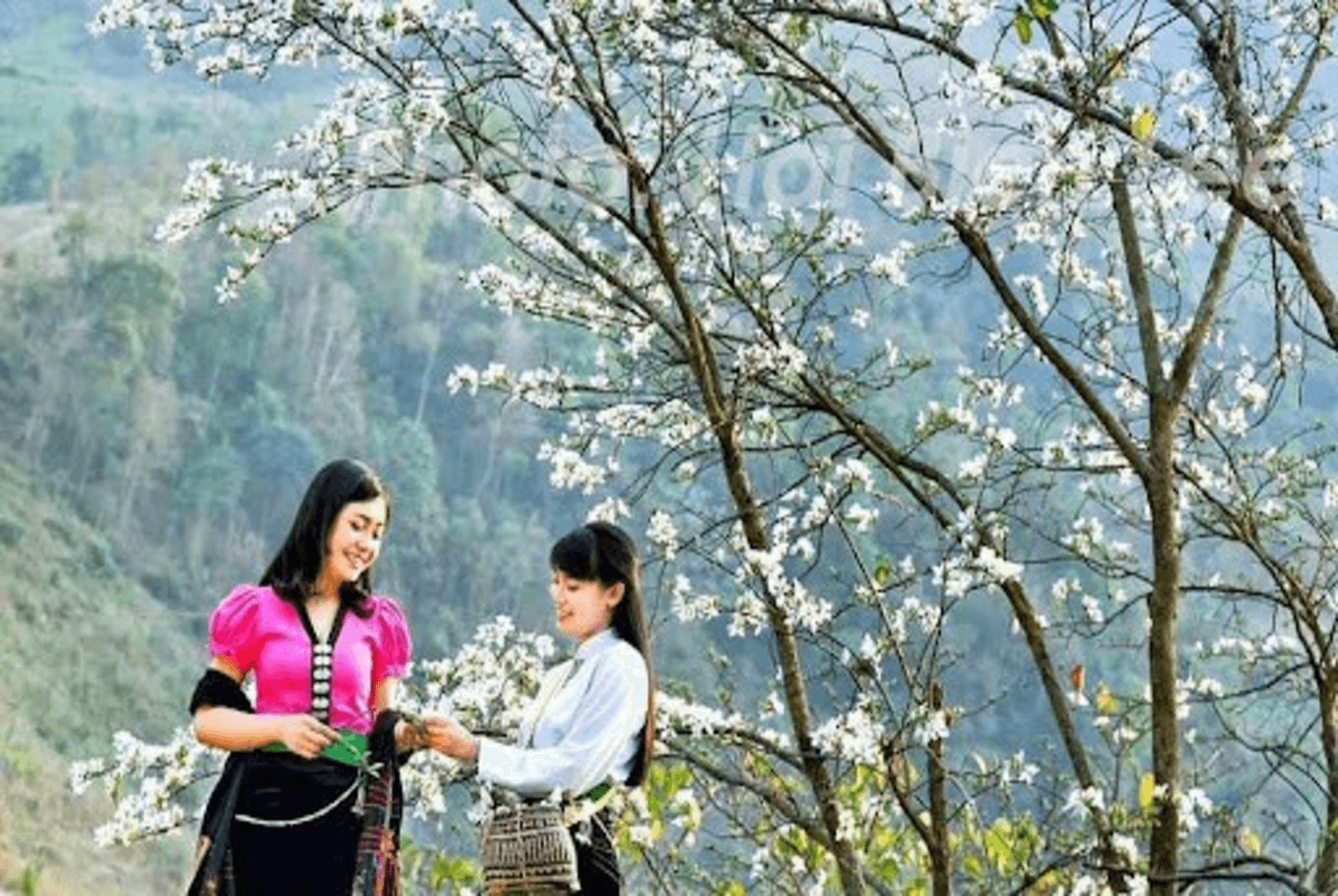 1. Dien Bien overview
Dien Bien is a mountainous border province in the Northwest region, more than 500 km west of Hanoi capital; it has a border with the Lao People's Democratic Republic.

Terrain: complex, composed of mountains running west along the Vietnam-Laos border about 100 km long. Interspersed with high mountains are narrow and steep valleys, rivers, and streams distributed throughout the province.

Climate: tropical monsoon high mountains, relatively cold winters, and little rain; Summer is hot and rainy with unusual characteristics and diversity

Ethnicity: Thai, H'mong, Viet, Dao, Giay…
2. When is the best time to travel to Dien Bien?
You can suggest to your customers to avoid traveling to Dien Bien during June, July and August because around this time there is often heavy rain.
If possible, visit Dien Bien on the anniversary of Dien Bien Phu's victory (May 7) to participate in cultural activities.
In addition, you can choose one of the following months to suggest to your customers go sightseeing in Dien Bien such as:
March is the beginning of spring when the ban flower – a typical flower of the Northwest mountains and forests – blooms white in a corner of the sky

September is the time when Dien Bien is immersed in the golden color of ripe rice fields

December is the season of wild sunflowers and buckwheat flowers spread all over the roads
3. How to get to Dien Bien?
Dien Bien is more than 500 km northwest of Hanoi, you can go by car to Cao Bang. The itinerary for a week or longer of the journey will often include time to visit the Northern Vietnamese mountains.
4. Places not to be missed in Dien Bien
Historical Victory Museum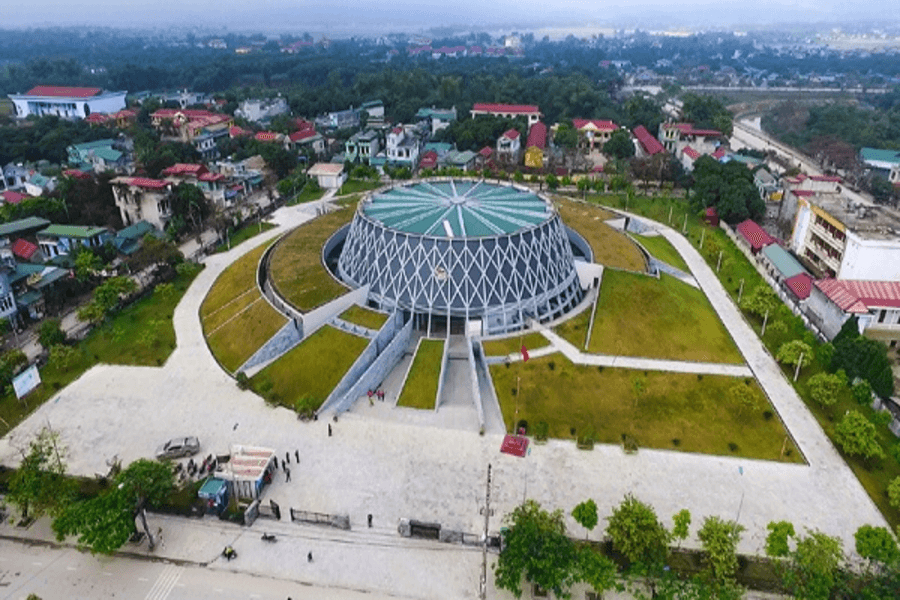 Historical Victory Museum with a unique cone-shaped design, modeled after the inseparable items of revolutionary soldiers. The museum is a space to display artifacts and images recounting the happenings of the historical battle of Dien Bien Phu.
Do Cat Tunnel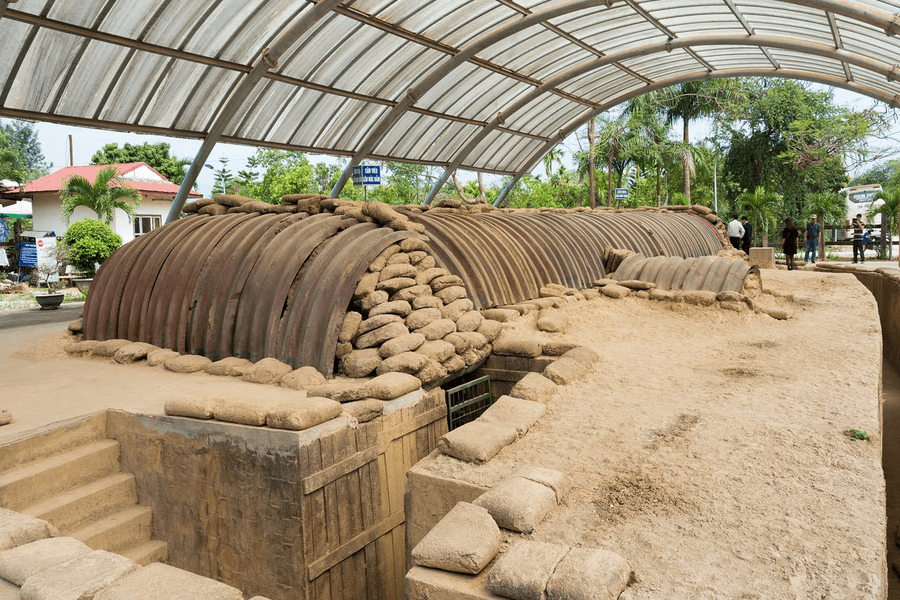 Do Cat Tunnel is impressive with a defensive fence surrounded by barbed wire and 4 tanks. This historical relic is 20m long, 8m wide with 4 working and living spaces. This is the command bunker of General Do Cat located right at the Dien Bien Phu stronghold, in the Muong Thanh field, Dien Bien district.
Dien Bien Phu Campaign Command Headquarters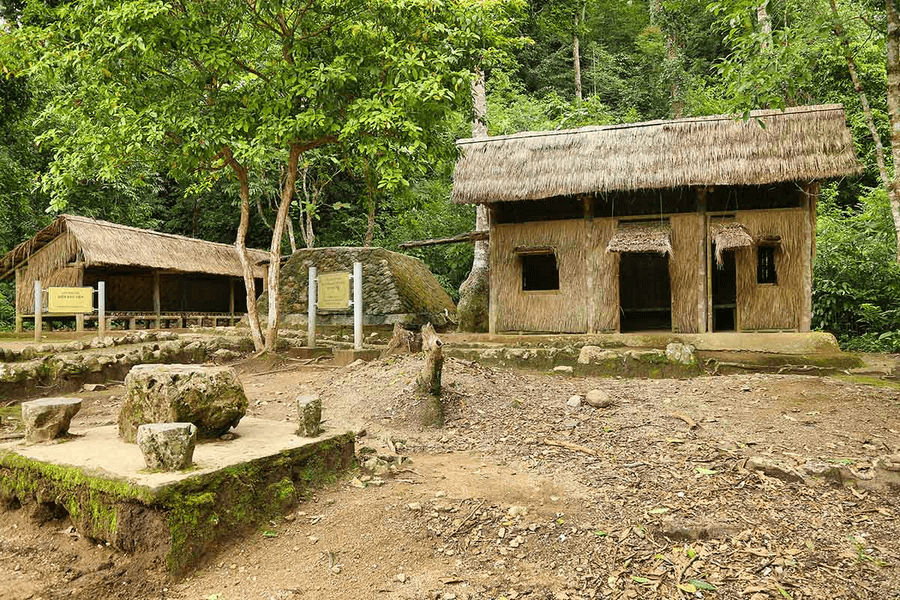 This is also the place listed in the list of famous tourist attractions. This is the workplace of the commanders in the Dien Bien Phu campaign with an observatory on the top of a 1000 m high mountain. Especially, there are many other relics such as: Watchtowers, communication tunnels, shacks to live and work of commanders, cellars of the advisory board, tunnels through the mountains 96m long, and tunnels of political committees and halls.
Pha Din Pass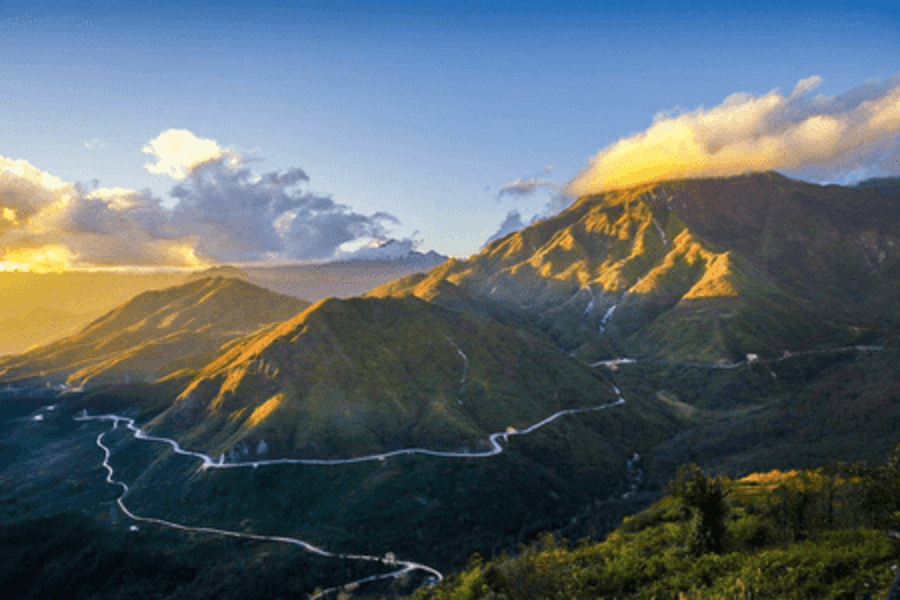 Pha Din pass – with a height of more than 1000m above sea level, located in 2 provinces of Son La and Dien Bien. This pass with dangerous terrain and death turns is one of the "Four Great Passes" of Northwest tourism, alongside Ma Pi Leng, Khau Pha, and O Quy Ho passes.
Pa Khoang Lake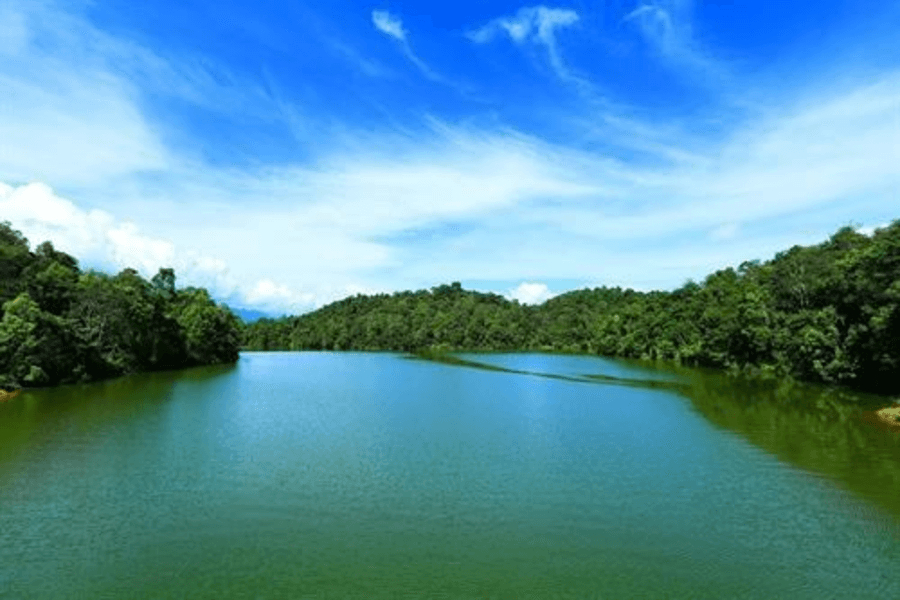 Located at an altitude of nearly 900 m above sea level. The lake covers an area of 2,400 hectares and is an important highlight in the ecotourism of Dien Bien province. Possessing charming beauty with overlapping mountains and rich vegetation, Pa Khoang is likened to "Ha Long Bay on land" in the Northwest.
Cherry Blossom Island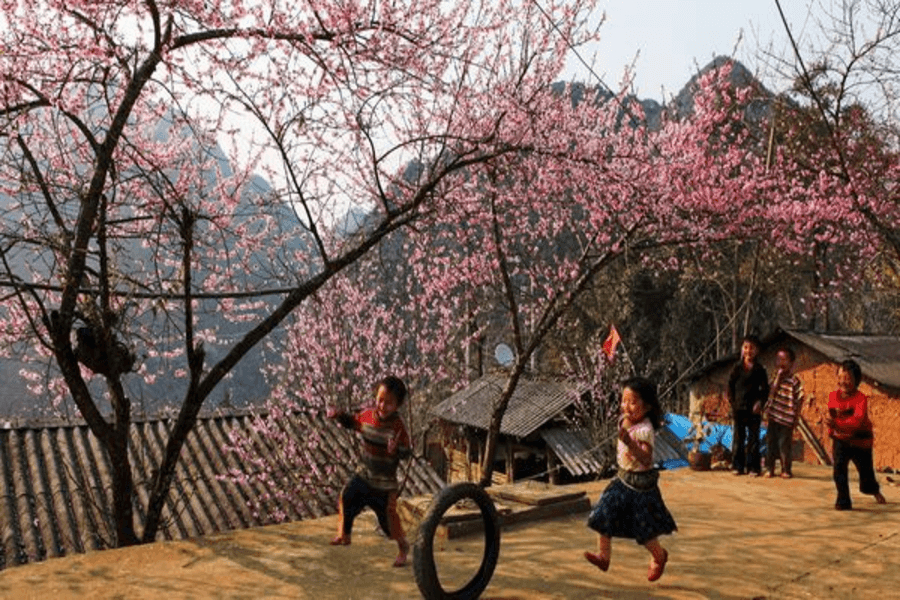 In spring, the "forest" of cherry blossom trees blooms, filling the whole island. The road to the island is also quite beautiful when it is located in the middle of Pa Khoang Lake. Cherry Blossom Island is especially beautiful when spring comes (near Tet). January, February, and March is the best time to visit the island.
Muong Thanh field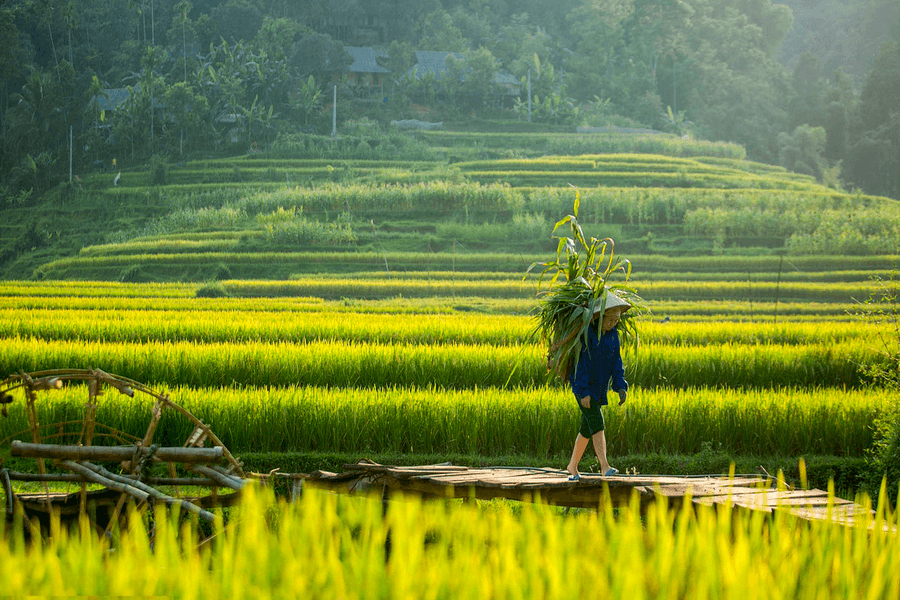 Muong Thanh field is one of the four richest and best rice granaries in the Northwest.
Hua Pe Hot Spring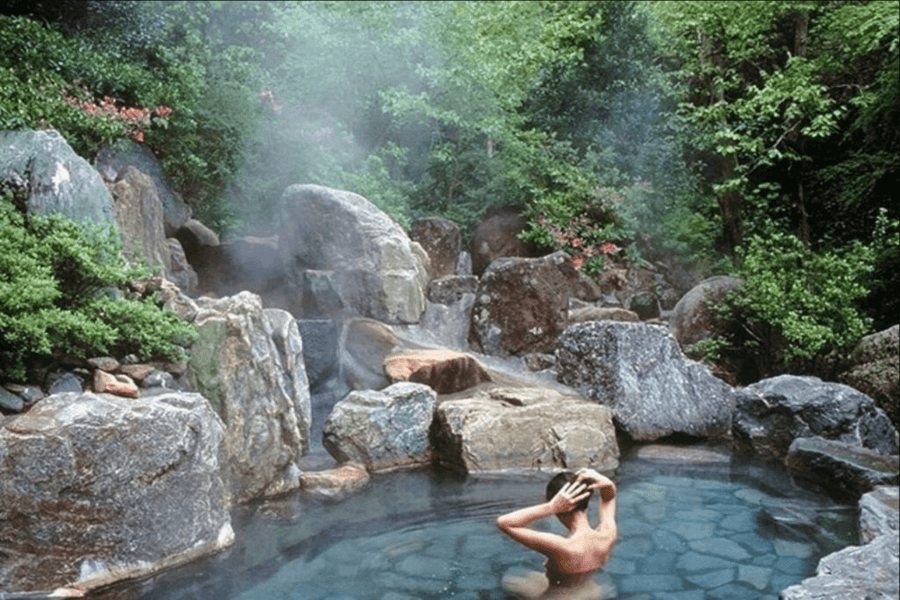 Hua Pe Hot Spring is a natural spring source that is constantly maintained at a temperature of 60°C containing many precious minerals. Bathing in hot mineral water is one of the ways to help promote health and overcome the symptoms of diseases of the musculoskeletal system and nervous system. Therefore, this place is very suitable for those who like eco-tourism and enjoy nature.
5. Dien Bien cuisine and specialties
Dien Bien sticky rice
No one can not remember the upland sticky rice dish cooked from fragrant rice grains grown in Muong Thanh fields. Hot sticky rice is always a must-try gift for tourists when visiting the westernmost land of the country, with both rustic flavor and unique features of Thai cuisine that cannot be found anywhere else.
Grilled chicken with Sichuan pepper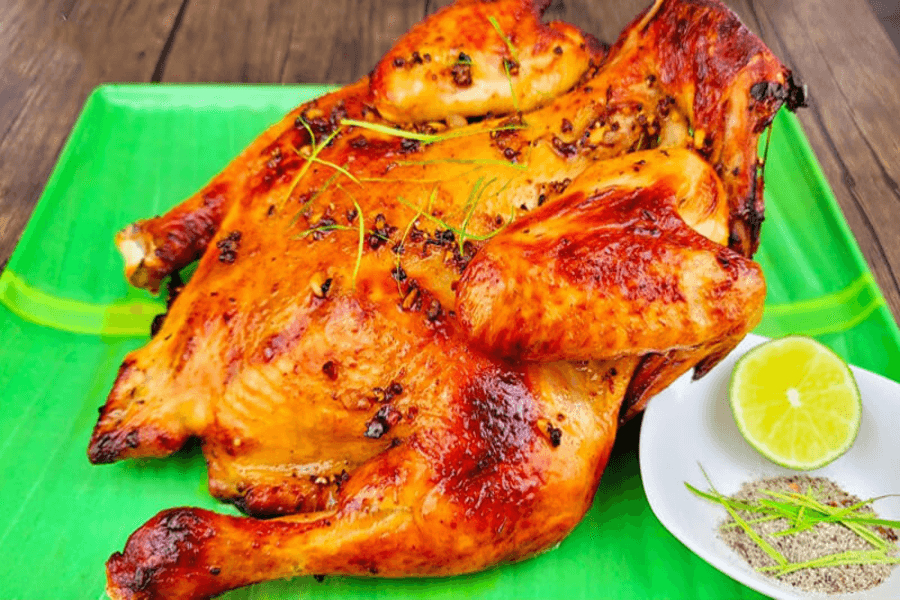 Grilled chicken with Sichuan pepper is a famous dish of Thai people in the Northwest. Chicken will be grilled with elaborate methods on charcoal that retains heat, and slowly grilled until cooked. After the chicken is cooked, then start spreading Sichuan pepper sauce on top. When it is hot, the steam will naturally give off an attractive aroma.
Rock moss
Rock moss is definitely a specialty dish. That is both unique and strange, moss will be taken from streams with clear water in the Northwest region. After that, it is processed into a variety of dishes such as: grilled moss, steamed moss, moss salad, and moss soup, … The most delicious dish is grilled moss.
Steamed minced pork with banana leaves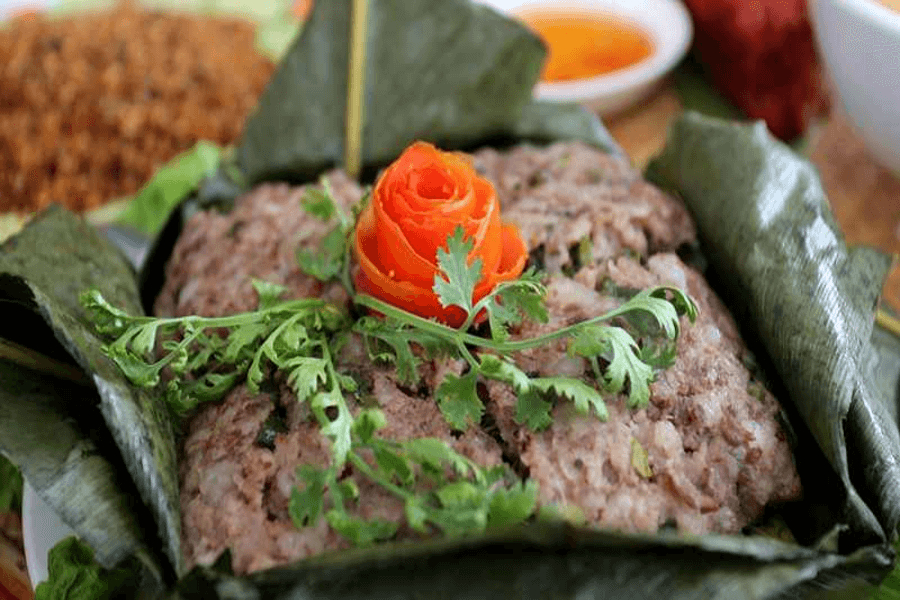 This specialty is made from pureed pork and marinated with spices, then tightly wrapped in layers of banana leaves. Continue to bring the water bath for 1 hour to complete. When opened, everyone is sure to fall in love with the scent of pork and the end leaves that blend together.
Shan Tuyet Tea
Shan Tuyet Tea is a tea tree growing at an altitude of 1400m. Living in a cold climate all year round. The tea has a golden color, when drinking, it will have a bitter taste but gradually sweeten and have an extremely characteristic aroma.
The above sharing has brought you useful information about the upcoming journeys to Dien Bien for your customers. Please contact your local travel partner for advice on interesting Dien Bien travel itineraries!