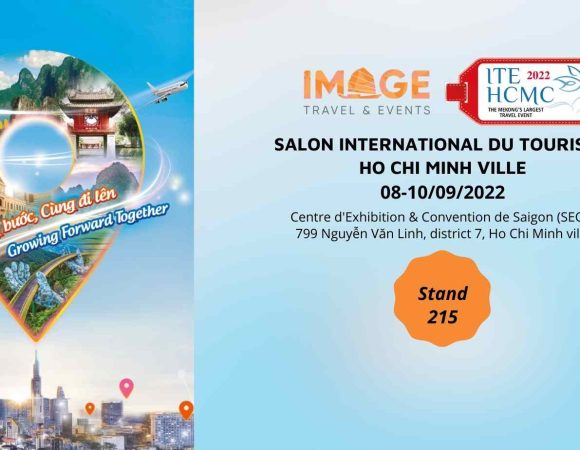 Big Promotions at ITE International Tourism Fair in Ho Chi Minh
ITE HCMC 2022, otherwise known as
the International Tourism Fair
in Ho Chi Minh, is the largest and most prestigious annual tourism event with many promotions in Vietnam. With this year's theme "Growing forward together", this event is organized by the People's Committee of Ho Chi Minh City and the Ministry of Culture, Sports, and Tourism.
The opening of the show
ITE The International Tourism Fair HCMC will be held from September 8 to 10 at the HCM Exhibition & Convention Center – SECC, 799 Nguyen Van Linh, District 7, Ho Chi Minh. In this atmosphere, Image Travel has mounted many unique trips and will make you enjoy many gifts during these days.
HCM Exhibition & Convention Center – SECC
Come many to our stand number 215, the south gate of the SECC to be able to win many attractive gifts such as:
Great promotion vouchers
A nice tote bag
Eco-responsible water bottle
Discount for direct bookings
"Exclusive" gifts from the Korea National Tourism Administration
Entertaining and fun games
And many more surprises
Image Travel is an active member of responsible tourism. This is part of the company's values. The responsible tourism community WAFORT will also accompany us at this Fair. To organize activities on this theme in order to promote responsible tourism to the public. In addition, on the site
https://itehcmc.travel/vi/
we have the 2D stand and the 3D virtual reality lounge for "circuit hunters" from afar. Come from September 8 to 10 at the Image Travel & Events booth for advice and assistance in choosing your trip to Vietnam, Indochina, Europe, and around the world.