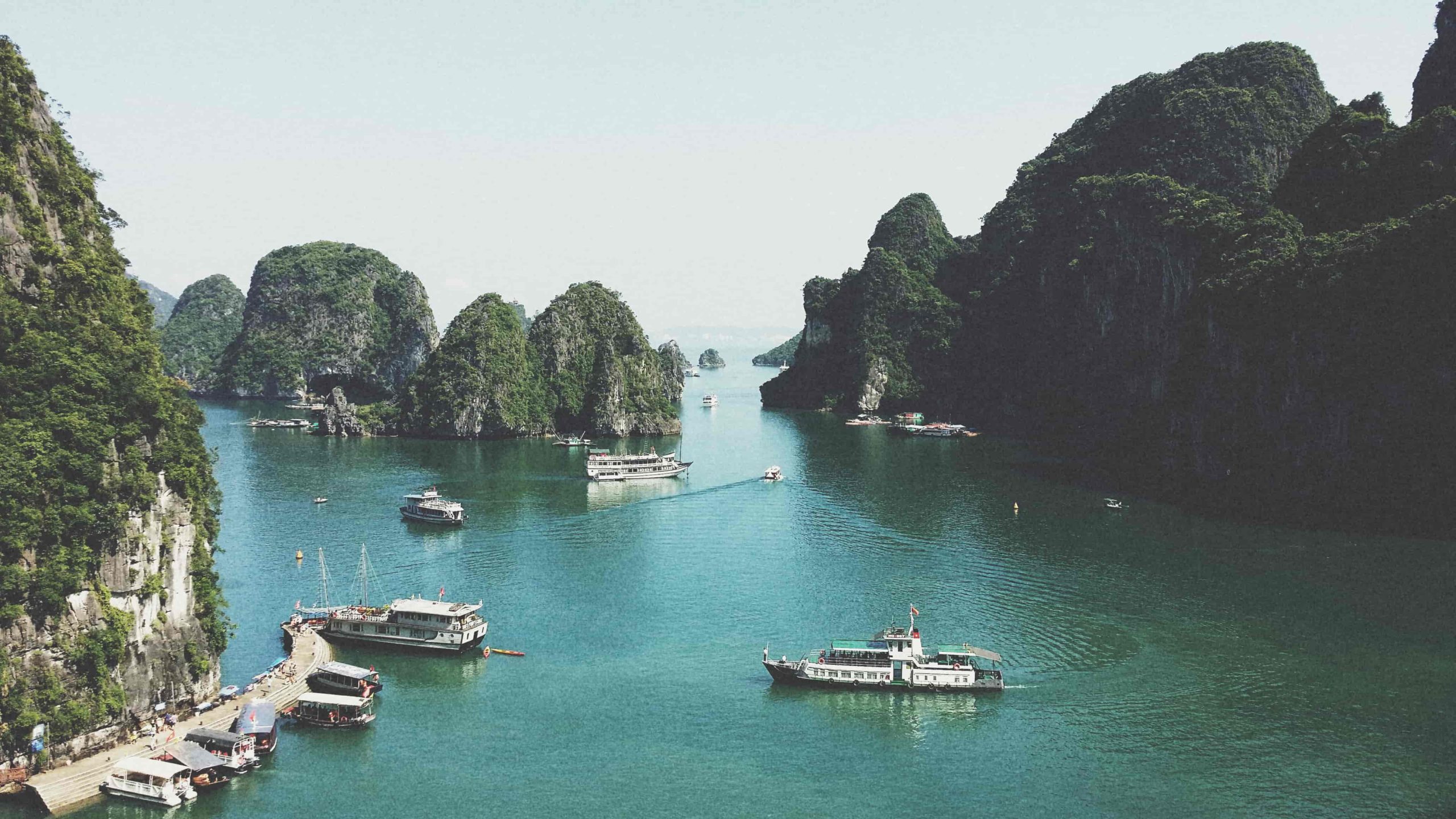 Vietnam is a unique destination, famous for its culture, the beauty of its historical legacy, and its numerous natural sites. Each region and each city in Vietnam are unique in many different ways. Certainly, travel to Vietnam will create a very diverse choice of itineraries that will surprise you at every corner! All of these experiences will give your customer the most exciting trip they will ever have, an unforgettable adventure!
In the North, meet the local ethnic minorities living in the mountains among the stunning rice plateau or the famous Ha Long Bay with its incredible out-of-this-world karst limestone landscape. Hanoi is the millennium capital city, influenced by French and Chinese cultures.
In the Center, a stop by Hue is essential to see the ancient imperialistic capital of Vietnam and its mystic charm. Hoi An, the quiet little town along the sea and its fascinating old village.
In the South, you can find Ho Chi Minh City, the economic capital, known as the city that never sleeps. And also The Mekong Delta and its out-of-the-ordinary local life. Vietnam and its ever-smiling locals will leave an unremovable mark in your customers' hearts and the most beautiful memories, memories they will be able to share with friends and families.
Images Travel and Events give your customer the chance to discover the real Viet-Nam, the traditions of its locals, the beauty of its lands, and the mysteries of its culture making their trips an experience they will never forget!
HA NOI
Situated in the Red River Delta, Hanoi is a city formed by the alluvial of the Red River and its tributaries. Nowadays, this city, like its nation, is changing, yet many of its historic structures and ruins remain. Vietnam's history and folklore have left lasting fingerprints on numerous cultural and architectural landmarks, creating beautiful images and a mysterious ambiance. The numerous gardens, trees, and lakes provide a peaceful scenery.
Benefiting from a tropical climate, there are essentially two main seasons: winter from November to April, quite cool and dry; February and March are slightly rainy. The summer, the hot and humid season with heavy rains and storms runs from May to October. The annual average temperature is 23ºC, with an average of 17ºC in winter (minimum of 7ºC) and 29ºC in summer (maximum of 38ºC).
HA LONG
Located in northeastern Vietnam, Ha Long Bay is bounded to the north by China and to the east by the Gulf of Tonkin.
The province's attractions include the forest and the sea. Ha Long was well-known for its natural resources, mainly coal. Prior to the rise of tourism in Vietnam, this was one of the primary income sources.
Halong Bay is certified as a World Heritage site by UNESCO for its natural beauties, with its magnificent karstic limestone landscape emerging from emerald, green water. Its incredible visuals and ambiance have quickly become one of the traveler's favorite spots in Vietnam.
The city of Ha Long has other sectors of activity like; trade, port activities, coal industry, fishing, building materials, and aquatic products processing.
It is a region rich in natural sites, some of which are classified as UNESCO World Heritage. It is the cradle of Vietnamese culture with archaeological remains dating back to 300 thousand years ago.
Nowadays, while going to travel to Vietnam you will come across a plethora of ethnic groups, each with its own set of traditions.
The average annual temperature is 25 ° C.
HUE
Hue city is located in the center of Thua Thien Hue province, the area stretches along the Huong River. The city is located 668 km south of Hanoi, 1039 km north of Ho Chi Minh City, and 95 km north of Da Nang.
Hue was the capital of Vietnam during the Tay Son (1788-1801) and Nguyen dynasties (1802–1945). Nowadays, the city is one of the Central Highlands and the country's cultural and tourism hubs.
Hue has many famous destinations that attract tourists. Among these is Hue Citadel recognized as a World Cultural Heritage by UNESCO. Other tourist attractions include the Huong River, Mount Ngu Binh, National University, Noon Gate, Thien Mu Pagoda, and Trang Tien Bridge, among others. Singing Choi is a local cultural song that has been designated as an Intangible Cultural Heritage of Humanity by UNESCO.
The average annual temperature in Hue is 25 ° C.
HOI AN
Hoi An is the most charming city in Vietnam, located in the middle of central Vietnam, 30 kilometers south of Danang. When travel to Vietnam, you must visit this city at least once. It is one of Asia's few cities whose architecture has survived nearly entirely intact.
Between the 16th and 18th centuries, this agricultural area was one of the main ports of Asia, serving as a hub for trade and exchange for merchants from the Netherlands, Spain, Portugal, Japan, China, Italy, and France. The historic streets, residences, temples, and pagodas have all been carefully conserved. The mix of European elements makes Hoi An city the most charming city in Vietnam.
Apart from its natural beauty, Hoi An has a rich architectural and cultural past, some of which are UNESCO World Heritage sites. Ironwood, ebony, and rosewood are among the valuable essences that may be found or purchased in Hoi An. The forefathers of the great and interesting Cham culture were the first natives.
The average annual temperature in Hoi An is 25,60 ° C; the highest temperature: 39.80°C; the lowest temperature: 22.80°C.
HO CHI MINH CITY
Ho Chi Minh City, often known as Saigon, is sculpted by hundreds of rivers and arroyos.
There you can find numerous buildings with interesting architecture marked European and Vietnamese origins in the city, the region famous for its flower villages and its luxurious gardens. There is incredible energy emerging from this city which is the economic capital of Vietnam. No wonder why this city is called "the city that never sleeps".
Ho Chi Minh dived into two seasons: the rainy season from May to November bringing along most of the annual rain and the dry season from December to April. The annual average temperature is approximately 28ºC, there is no winter which means that the temperature is pleasant all year long.
Weather:
Northern Vietnam:
Dec – Feb: 10°C to 25°C, mostly dry, gray.
March: 15°C to 30°C, season change, dry.
April – June: 25°C to 35°C, some heavy showers.
Sept–Oct: 25°C to 35°C, clear weather, occasional showers.
Note: from 5°C to 10°C less in the mountains; make sure you have warm clothes.
Central Vietnam: Hoi An, Hue
Dec – Feb: 15°C to 30°C, mostly dry, gray.
March – Aug: 25°C to 35°C, dry, ideal.
Sept-Nov: 23°C to 32°C, rain risk due to atmospheric depressions.
Note Occasional bad weather on the beaches from October to January.
Southern Vietnam: Ho Chi Minh, Mekong Delta
All year: 25°C to 30°C.
Nov – June: 22°C to 34°C, dry and warm, especially in December and February.
July – Oct: 25-35°C, with late-afternoon rains, especially in September.
Beaches:
Nha Trang :
All year: 25 to 35°C
Nov – Dec: occasional showers.
Phan Thiet and Vung Tau:
All year: 25 – 30°C
May-Oct: occasional showers.
Note: Its renown stems from the numerous cultural and ecological assets that surround it, not the beaches.
Phu Quoc:
All year: 25 to 35°C.
July – Sept: showers late afternoon, refreshing but can last long.
Note: Magnificent beaches, combined with the Mekong Delta.