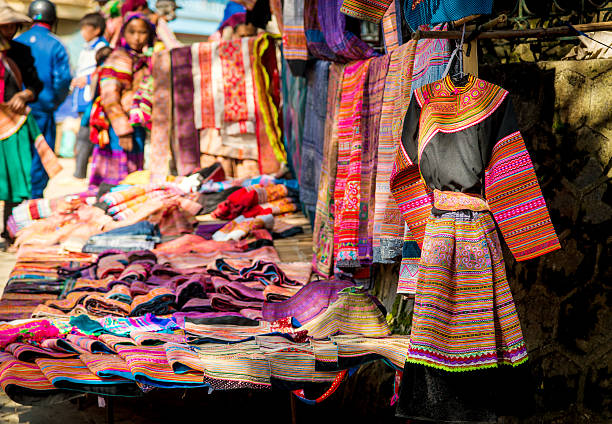 Visit Vietnam's colorful ethnic minority market in the mountains of Bac Ha
In the town of Bac Ha, Sundays are not only the beginning of a new week, it is also the most important day, when thousands of people will travel to be part of the great Bac Ha market. And no matter what they sell or buy, everyone visits the market wearing its traditional colored suits, representative of its ethnic group.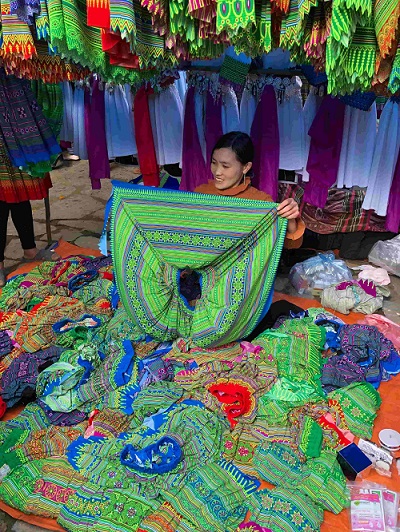 Colorful fabrics of Bac Ha market
With the first lights of the day, amid the mist of the mountains and its imposing rice terraces, thousands of people begin to descend from their villages, some carrying baskets full of crops, textiles or spices on their backs. Others descend slowly, herding their buffalo or other cattle. No matter what their merchandise is, they all head to the same place. The great Sunday market in Bac Ha, a town in northern Vietnam, just a few kilometers from the border with China. Vietnam is home to 54 ethnic minorities, and the mountains in the north of the country are where most of them live. One of the most important custom of the region is trade and barter and the Bac Ha Sunday market is the perfect opportunity to sell their products and buy those they need. Sellers and buyers include men and women from the Hmong Flores, White Hmong, Red Dao, Black Dao, Lolo Negro and Tay ethnic minorities, among many others. They usually wear colorful clothing which identifies them to their respective ethnic groups.
Colorful ethnic minority market in the mountains of Bac Ha
The Bac Ha market, despite being more popular among tourists, is still a very authentic place where the local inhabitants do not miss the opportunity to offer the most varied products.
You will find everything: from rice, sugar cane, and firewood to heat the houses in the cold winter, to handmade clothes and colorful fabrics of great quality. But that is not all, exploring the streets, you will be able to see chickens as well as impressive buffaloes used to work in the rice fields. If you look carefully, you will find everything you need to survive in the isolated mountains of the region. To visit the market there are several options available, the town of Bac Ha has numerous homestays or family residences where you can discover more of the region and share time with locals. If you want a more comfortable option, the famous city of Sa Pa, only two hours from Bac Ha, offers hotels of all categories and amenities available, and it's a great option to visit the north of Vietnam, a place that will not stop surprising you.