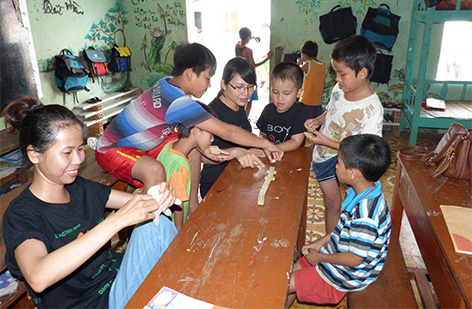 Since 2010, our DMC (destination management company) travel agency, IMAGES TRAVEL is committed to a solidarity process towards Huong Duong Orphanage located in few kilometres from the city of Can Tho in the Mekong Delta. For the anecdote, "Huong Duong" means "sunflower", a nice image full of promises that makes think about the fulfilment and the personal development of the children in a natural environment.
Huong Duong Orphanage
The orphanage takes care of 30 to 40 children aged between 3 and 22 years. They live in a community and in a joyous and relaxed atmosphere. They go to school either in the morning or in the afternoon or more the older. Their schedule is well busy as they get up at 5 am to have a good breakfast, take part in a sports class and begin with the housework. The children learn how to be self-sufficient from their earliest days. Then it is time for class or the homework supervised by the nanny, Mrs Thu. Back from school, the children enjoy their time together to have fun before having dinner. Around 7 or 8 pm, the children go to bed and have sweet dreams.
During the first year, with the support of Salaün Holidays, a partner with who we collaborate forever. We financed and implemented the building of a big classroom and a newly fitted kitchen. In 2014, the roof and the ground for the boys' bedroom have been totally rebuilt as well as the bathroom.
When this project ended, we decided to sustain our momentum. We endeavoured to renovate the library and to improve the educational and sports content. Indeed, we set up classes of Vovinam Viet Vo Dao, a Vietnamese martial art; but we also make our interns step into this project: they give French classes to the children and have some fun with them.
Finally, to let the tourists be a part of this, we offer them the occasion to visit the orphanage and to meet the children accompanied by Mrs Thu. Thus, the travellers can communicate with the children eager to learn a few words of French via the guide. Often, the donations of the tourists give the children the opportunity to spend a great time or to get supplies for school.
We would like to add that this intervention is not profitable for our travel agency. Let the tourists take part in this project only for the reasons above. And we also want to warn the travellers that this orphanage is not a zoo. Behave yourself decently and do not expect or demand anything from the children as they will not from you.