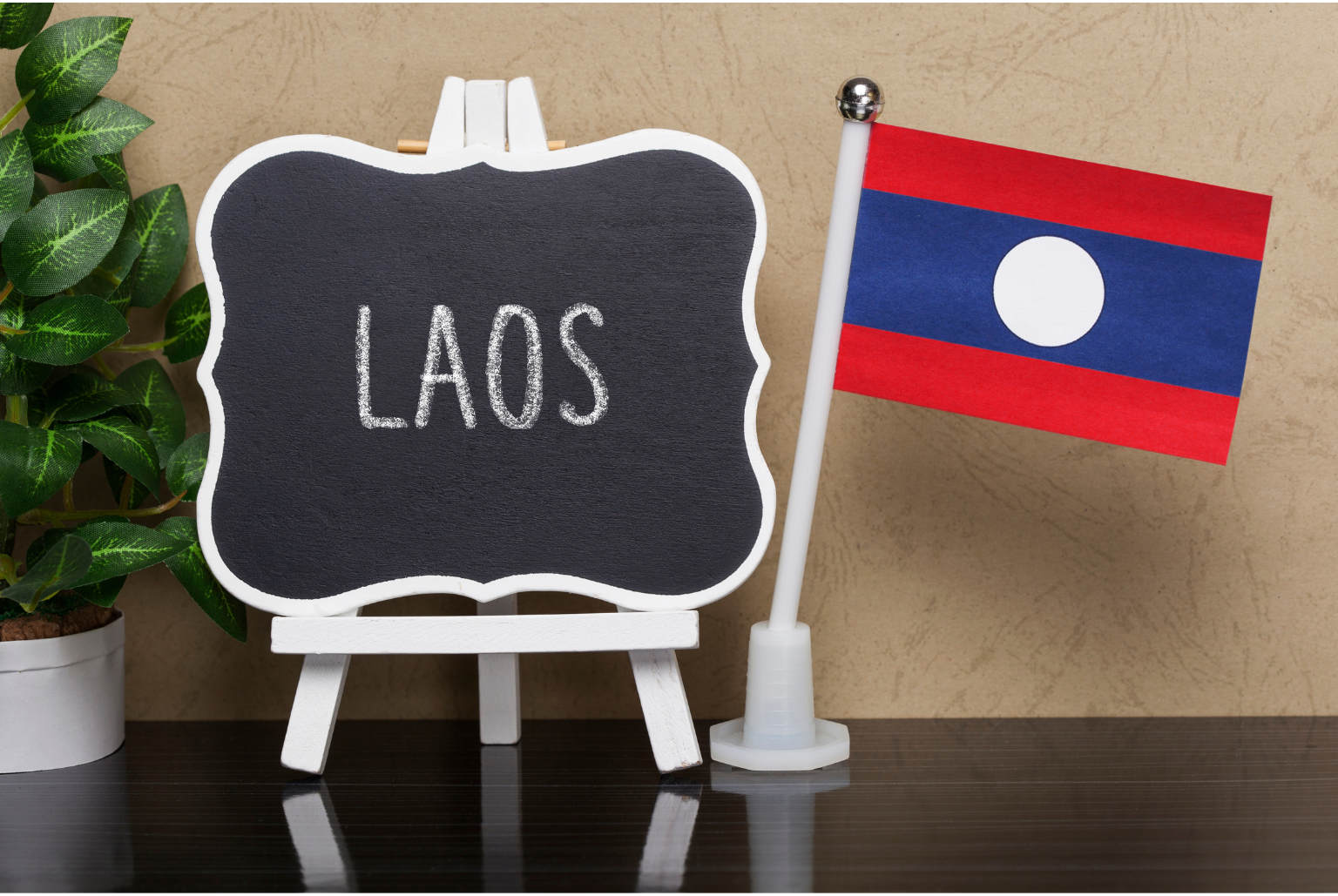 Laos is the only landlocked country in Southeast Asia. However, every year, this place still attracts a large number of tourists around the world because of its unique culture, unspoiled landscapes and peaceful countryside. Therefore, it is easy to understand why your customers would want to travel to this country. Paying tribute to its wonderful scenery, its ancient architecture and its people of Laos, here are 10 fun facts about Laos that DMC Image Travel and Events find totally irresistible – and know your customers will too.
FAST FACTS 
Official name: Lao People's Democratic Republic
The capital and largest city: Vientiane
Population: 7,447,396
Area: 236,800 sq km
Major languages: Lao
The official state religion: Buddhism
– Source: Wikipedia
FUN FACTS ABOUT LAOS
1. The land of a Million Elephants
Laos is heavily forested and sparsely populated, so herds of wild elephants roam everywhere. During the time when the Lang Xang Kingdom existed, elephants were the main means of transportation for the royal family. In their opinion, elephants are considered a sacred animal, which Lao people believe will bring them prosperity. Therefore, Laos is also known as the "Land of a million elephants".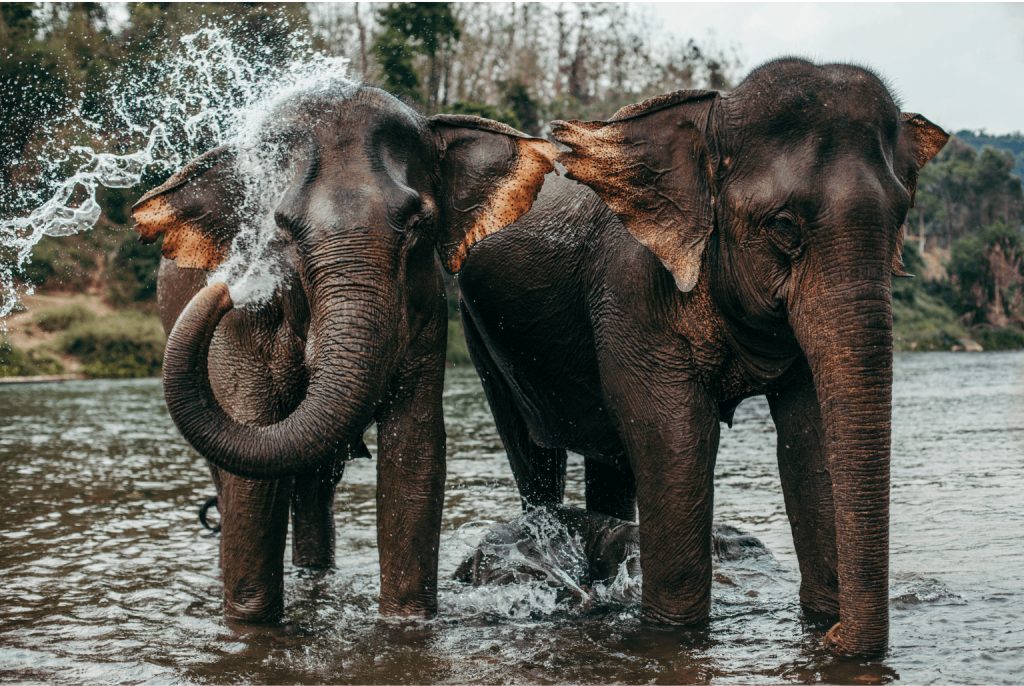 2. Capital of bold French architecture
Vientiane served as the administrative capital during French rule. Nowadays, this place is the official capital of Laos. Although the country is at peace, Vientiane still has an unmistakable French architectural style. The wide boulevards, colonial architecture, fragrant sandwiches, wine and coffee are the things that are most evident in Vientiane.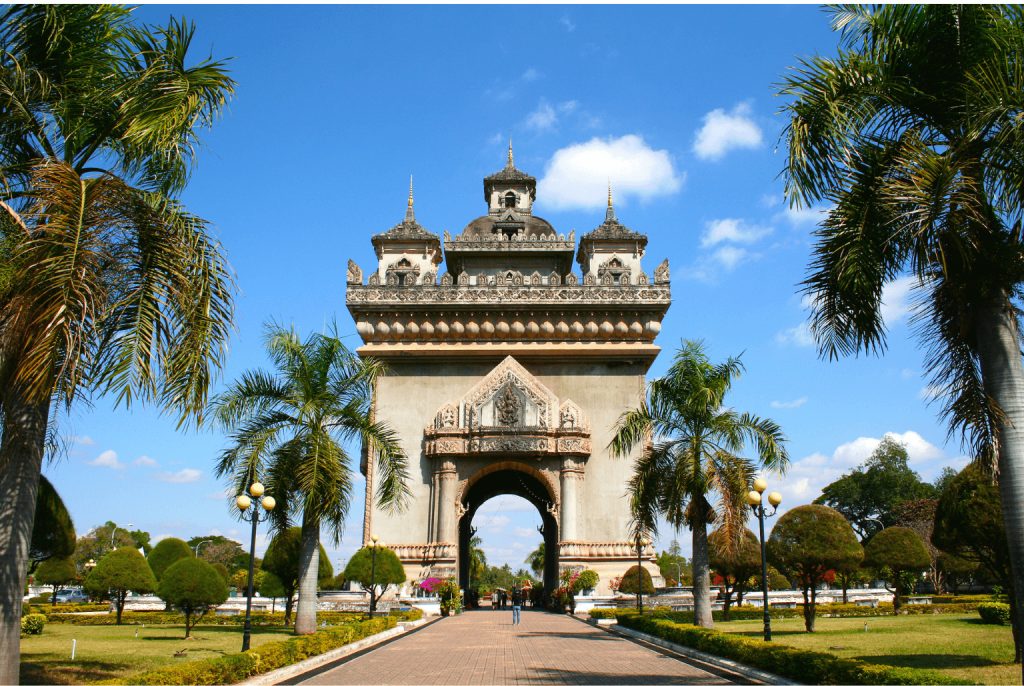 When your customers come here, they will not only see the ancient architecture of the French period, but also feel the pride of Cambodians about their heroic history of fighting against the enemy. This is also one of the fun facts about Laos that attract tourists to visit.
3. "Sa Bai Dee" – Lao greeting
When meeting any Laotian local, your customers can greet them by clasping their hands and saying "Sa Bai Dee". We firmly believe that the locals will respond with a loving look, a bright smile and a familiar greeting to wish you a happy new day.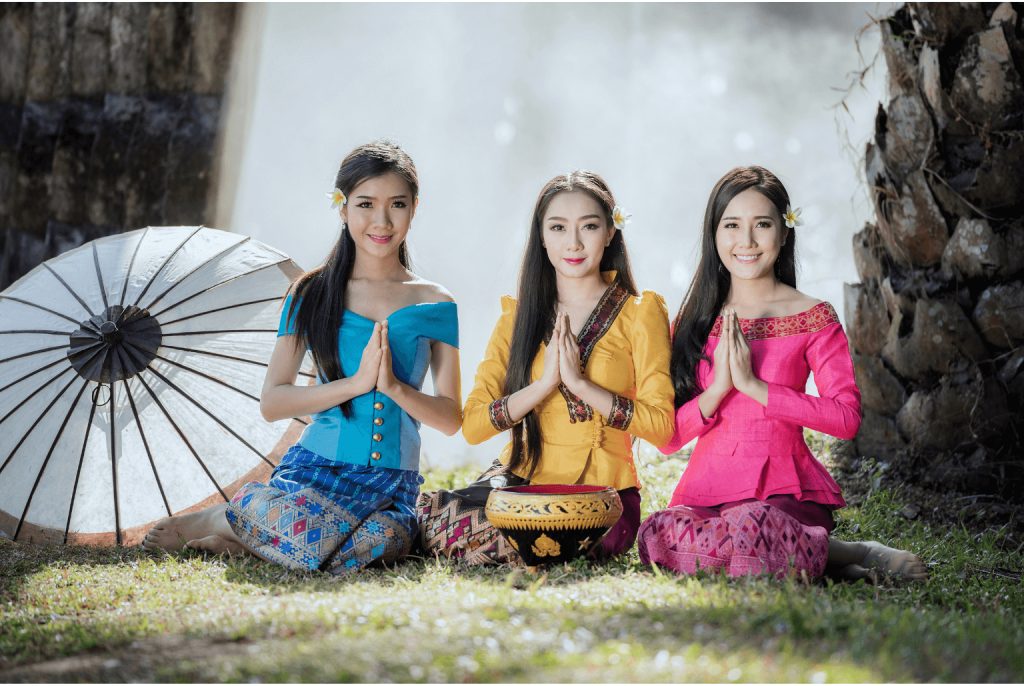 Laotians do not encourage greeting by touching the body or limbs, but they often fold their hands forward and bow their heads in respect. Currently, when the mind has gradually opened, some Lao men have also learned to greet and shake hands with another man, but for women, this action is not encouraged.
4. Country of festivals and temples
Laos is the land of festivals, almost every month of the year. Each year, there are 4 times of Tet: New Year's Eve, Lunar New Year (as in some Asian countries), Lao New Year (Bun Pi Mai in April) and Hmong New Year (December). In which, Bun Pi Mai is the largest and most large-scale ceremony.
For Laotians, festivals are for fun. However, they also prepare food and drinks more carefully than usual, especially indispensable alcohol. On New Year's Day, from early morning, the villagers wear the most beautiful clothes. Boys and girls with colorful dresses and skirts gathered at the temple yard to attend the Buddha bathing ceremony.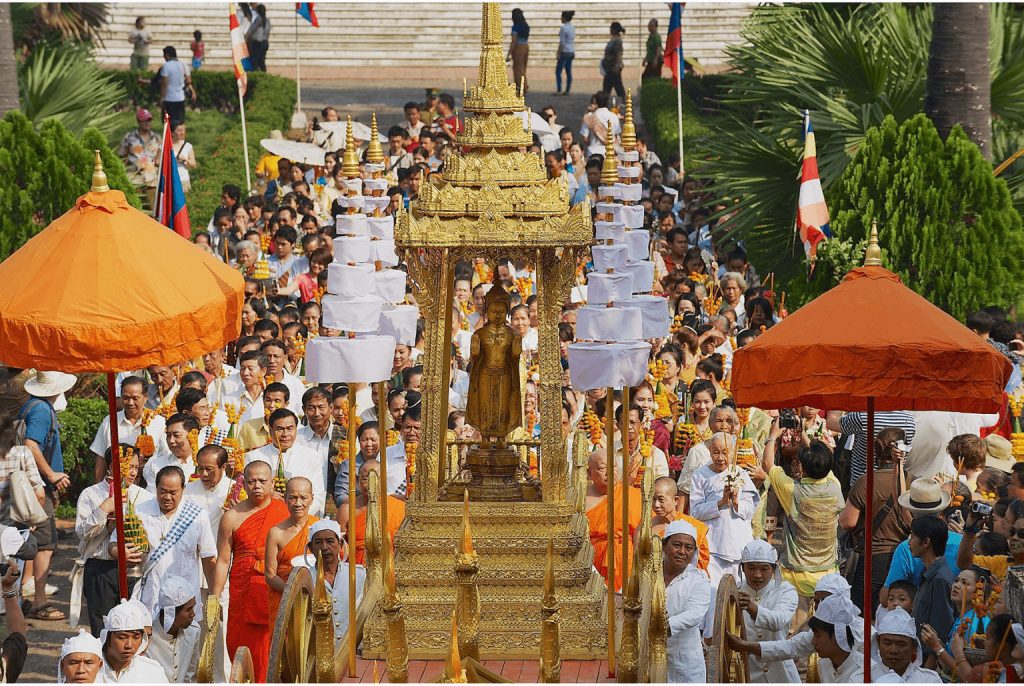 Laos is also known as the "Land of Buddhism" with more than 1,400 temples, one of the countries with the largest number of temples in the world. It is estimated that every 100km there will be a temple in Laos.
5. Buddhist culture
Buddhism has a long history and thrives to become the national religion in Laos. According to statistics of the Lao Ministry of Interior in 2019, 66.17% of Lao people are Buddhist. This is probably a fun fact about Laos that most people probably know.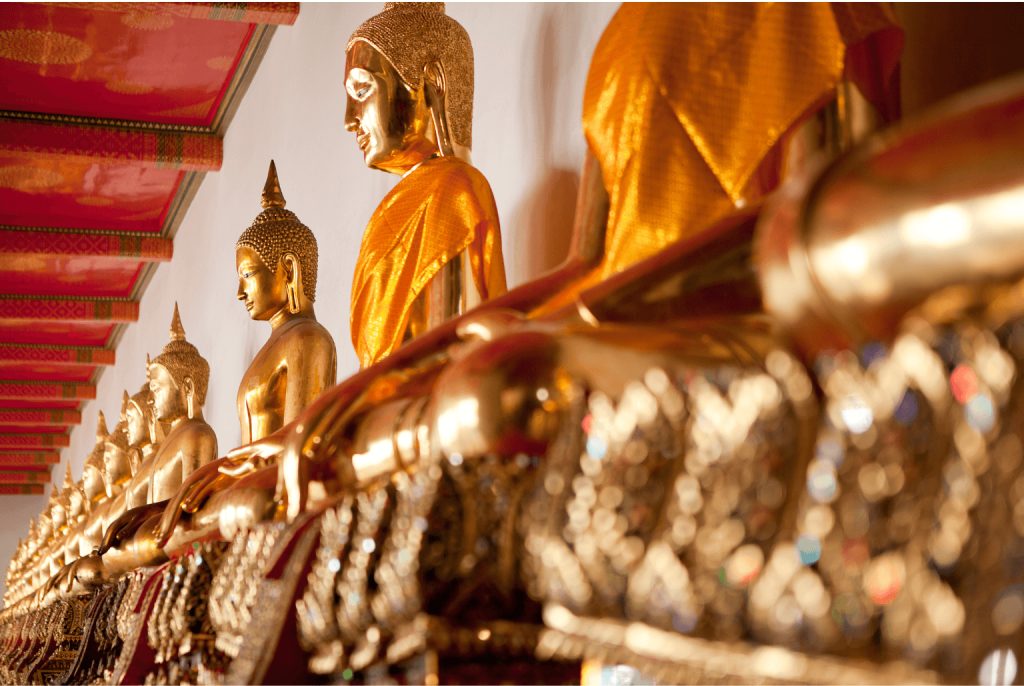 Buddhist culture has been deeply ingrained in thought, leaving clear imprints in the lives of the Lao people. Not only in the features of ancient pagodas and pagodas, but also in the yellow robes of monks, Buddhism has also become an indispensable part of the spiritual life of the Lao people. From architecture to painting; from language to literature; from costumes, food to beliefs, festivals all bear the imprint of Buddhism.
6. Unique national costume
One of the fun facts about Laos is the traditional costume in this country. Traditional costumes reflect Laos custom and are designed for both men and women. For women, it's called Sing and Salong is for men. The motifs on the costumes are created by skillful and meticulous weaving techniques of the Lao people.
Sinh is a tube dress made of silk, with delicate patterns and delicate embroidery. Sinh consists of three main parts: Hua Sinh – the belt is usually covered when worn, Phuen Sinh – the main part of the dress is usually one or two colors, and Tin Sinh – elaborately woven underfoot contours sometimes decorated with gold. When a woman wears Sinh, people will wrap a scarf of the same color across their upper body to increase the charm.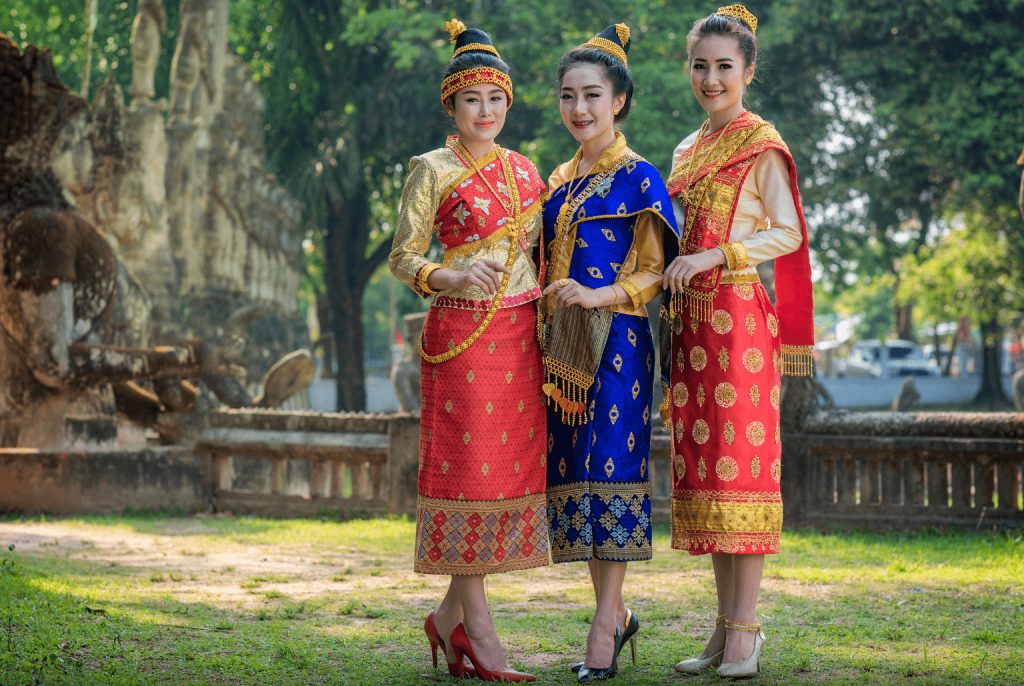 Different from the Sing costume of Lao women, the traditional costume of men is the Salong which is a large pair of pants with different colors. The pants were actually a wrap-around skirt designed with the ends twisted together, pulled between the legs and fixed to the waistband at the back. Salong is often paired with a shirt, knee-length white socks, and a Pha biang shawl,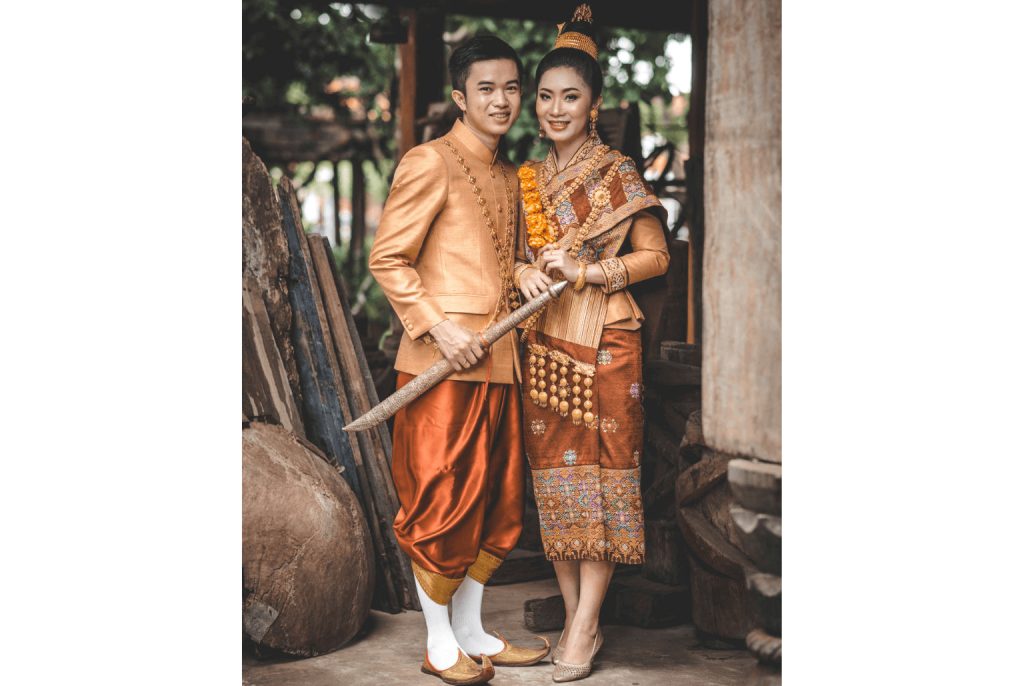 7. Culinary interference
Cambodian cuisine has interfered with the culinary styles of neighboring countries such as Cambodia and Thailand. Lao people eat rice mainly; the dishes are characterized by the use of spices such as ginger, tamarind, lime leaves, and many types of very hot dried chili peppers.
In each region, there are also typical dishes and are processed separately for each region, but it is impossible not to have the spicy taste of chili. A typical Laotian dish is a blend of spicy and sweet, neutralized by a variety of herbs.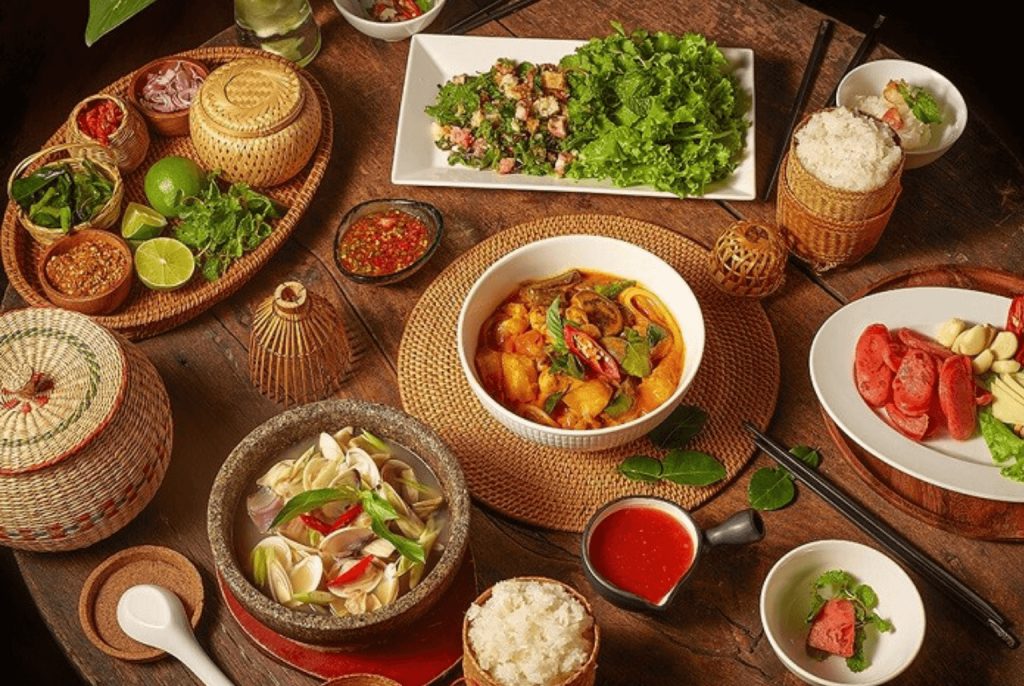 When your customers visit the land of million elephants, they will enjoy the fragrant taste of lam rice, sticky rice, the attractive sweet and spicy taste of sausages, a little bit of hot shrimp and a strong smell of alcohol. We believe these are the things that are imprinted in the minds of your customers when reminded of the food experience in Laos.
8. Cars everywhere
The next fun fact about Laos is that your customers can see cars everywhere in this country. Because the Lao government encourages Laotians to use cars, the car tax here is very low. It is easy to see cars with many different models circulating on the streets of Laos.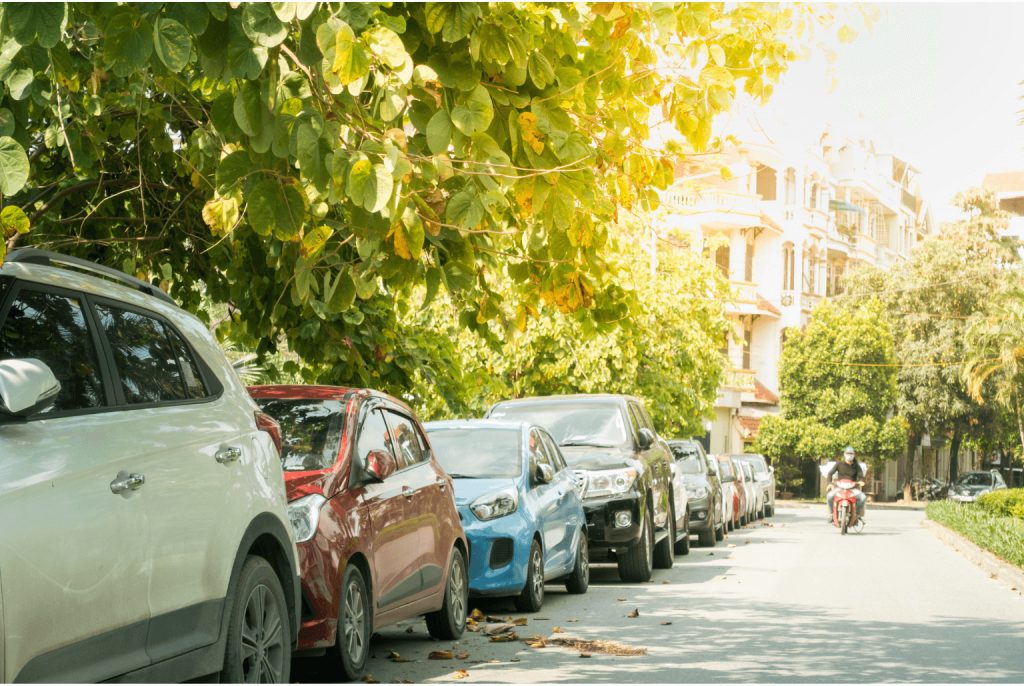 However, if your customers do not want to rent a car to move around the city, they can completely choose to travel by other means such as Tuk tuk or pickup. Contact your trusted local partner who has experience in providing transportation that meets your customer's needs.
9. The vast field of jars
Coming to Xiangkhuang Plateau, your customers will witness a very strange sight: thousands of stone jars are scattered along the valleys and hillsides. Most of them are located in clusters with the number from one to several hundred jars. No one is sure of the origin of these jars, but they are known to have been discovered since the Iron Age and are speculated to have been part of the local people's burial rituals.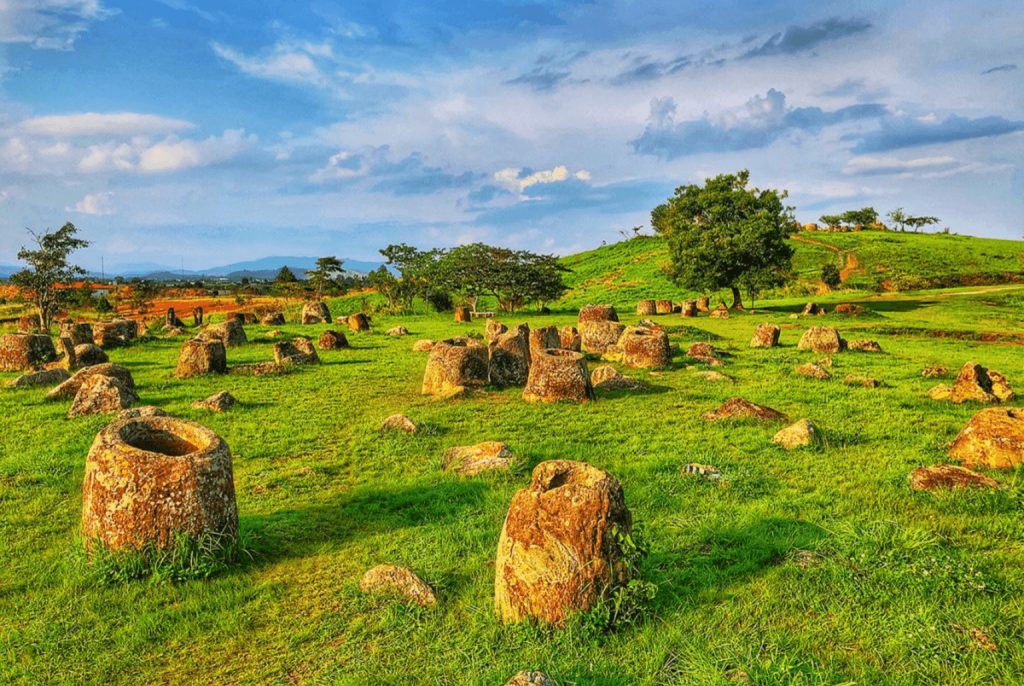 The plain of jars remains one of the most dangerous archaeological sites in the world. Unexploded bombs left over from the war still cause injuries every week. During that war, the US Air Force heavily bombed the area. Your customers coming here to visit must strictly follow the signposts and tour guides.
10. King of islands
Laos is the only Southeast Asian country that is landlocked, but the south of the country possesses a unique feature bestowed by nature. That is the Si Phan Don archipelago on the Mekong River, in Champassak province, with more than 4,000 large and small islands. Therefore, your customers can still enjoy a beach vacation in Laos.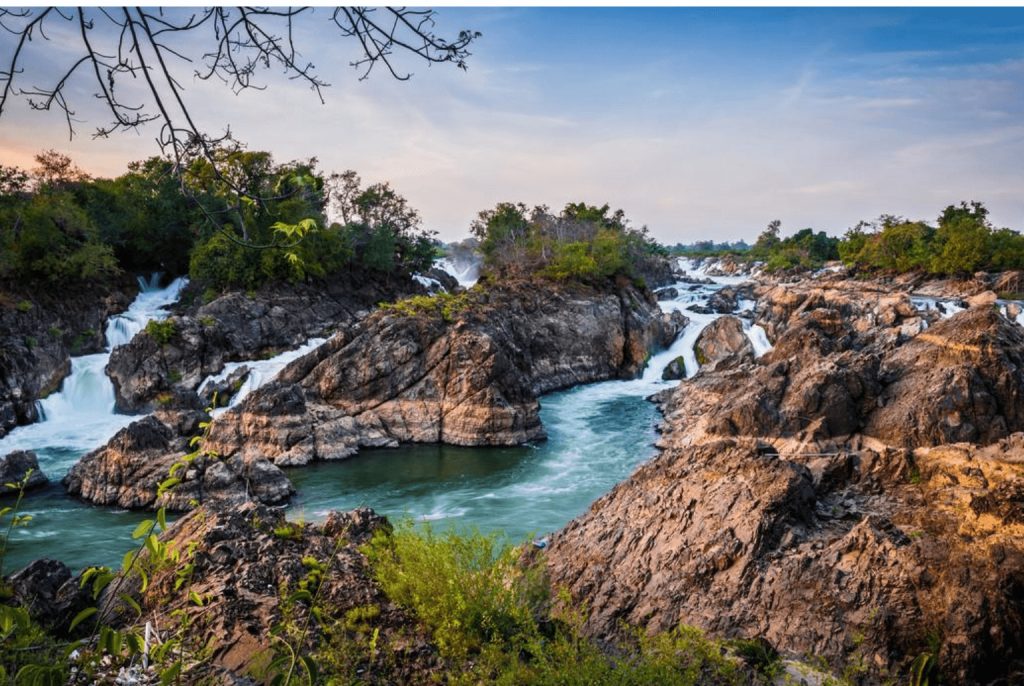 The Si Phan Don archipelago is also famous as the natural habitat of the Irrawaddy dolphin. According to the Worldwide Fund for Nature (WWF), there are only about 92 freshwater dolphins left in the Mekong River region between Cambodia and Laos. DMC Mekong Image Travel and Events can design for your guests a boat or kayak excursion, our guides will take them to where Irrawaddy dolphins often congregate.
Summary of the 10 fun facts about Laos
We have provided many fun facts about Laos so you can know more information about Lao culture, nature, cuisine. If your customers want to travel to Laos, do not hesitate to contact us – your trusted local partner.